How Does CKD Cause Renal Anemia
2013-09-16 17:39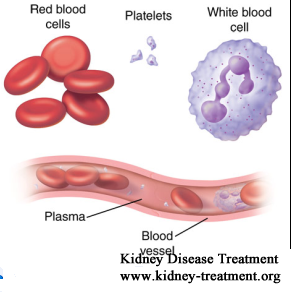 Many CKD patients said that they often feel tired and sleepy. When they look at the mirror, they find that their complexion is sallow, and eye conjunctiva is pale. If you are a CKD patient and also have these symptoms, pay more attention to your body. You may have renal anemia. Do you know what is renal anemia and how does kidney problem cause renal anemia?
Renal anemia is a kind of disease which is caused by low count of red blood cells in blood. This type of anemia is caused by a lack of erythropoietin, a hormone produced in the kidneys that helps to create red blood cells. For CKD patients, the worse the kidney is, the severer the anemia will be.
How does CKD cause renal anemia?
1 Insufficiency of EPO (Erythropoietin):
EPO is essential in the formation of red blood cells, and the shortage of EPO is the main cause of renal anemia. It is generated by our kidney, so when kidneys are damaged, the production of EPO will decrease. When this happens, the patients run a high risk for renal anemia.
2 Short life span of red blood cells
The main function of kidney is to filter wastes in our body, when in renal failure stage, a large amount of toxin accumulates in the body, hence interfere the creation and metabolism of red blood cells. This may shorten the life of red blood cells and then cause renal anemia.
3 The decreases of red blood cells
CKD patients in stage 3 or 4 have blood urine which is diagnosed when large amounts of red blood cells leak into urine. Without timely and effective treatment, more and more red blood cells leak into urine, leading to the decrease of red blood cell in blood. Another reason is bleeding. Bleeding conditions like gums bleeding and epistaxis occur when illness condition runs to a certain stage. This also contributes to the occurrence of anemia.
4 Malnutrition
We all know that CKD patients have special diets because they must be alert about the elements in foods, so as to avoid aggravating the disease. And many patients have to limit the intake of protein. Protein is the main raw material for blood and when protein in blood is decreased greatly, anemia occurs.
Now we know how kidney problems cause renal anemia. Renal anemia is a complication of CKD, so the stability of the chronic renal failure or alleviation is the fundamental diagram.
Any kidney problems? Please consult our online doctor. The satisfaction of patient is as high as 93%.
Have a question regarding kidney disease? Get an answer from Medical Professional now!