What Does Foamy Urine Mean for CKD Patients
2013-09-17 16:06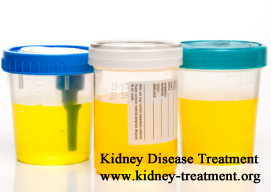 Foamy urine is a common symptom of CKD and usually, the more foams in urine, the more serious the kidney disease is. Why is this? What does foamy urine mean? And what happens if foamy urine if left uncontrolled?
What does foamy urine mean for CKD patients?
In CKD, foamy urine means there are excess protein in urine. In normal condition, protein are kept in the blood through kidneys. Therefore, when kidneys are injured, protein leak into urine, leading to proteinuria. Proteinuria is a symptom of CKD, but not everyone with CKD is certainly suffering from kidney problem. Urine test and blood tests are generally needed to tell whether kidney function is affected.
How does CKD cause foamy urine?
Proteinuria is a typical symptom of chronic kidney disease. There are inseparable relationship between the formation of proteinuria and the barrier function of glomerulus. Each layer of filtration membrane of glomerular contains negatively charged material, these material reject plasma proteins which contains negatively charged material, when kidney is damaged, proteins go through easily and hence lead to foamy urine. Glomerulus, glomeruli, glomerular
What happens if proteinuria or foamy urine is left uncontrolled?
(1) Protein is the foundation of our life, and it is the essential nutrient of human body. Almost no one can live without protein. The lasting proteinuria will lead to malnutrition. The effect is especially worse to children.
(2) The decrease of immunoglobulin can cause low immunity, and then cause infection easily.
(3) With effective control, more and more protein leak into urine, which can cause low protein level in blood or hypoproteinemia.
(4) Proteinuria becomes more and more serious if no treatment is given and this can accelerate CKD to end stage kidney failure.
For this reason, a tight control of foamy urine or proteinuria is very important for CKD patients. And to receive satisfactory effects in treating proteinuria caused by CKD, both diet change and medical medicine are needed.
Any kidney problems? Please consult our online doctor. The satisfaction of patient is as high as 93%.
Have a question regarding kidney disease? Get an answer from Medical Professional now!