How is Anemia Related to Chronic Kidney Disease and How to Treat It
2015-02-26 16:31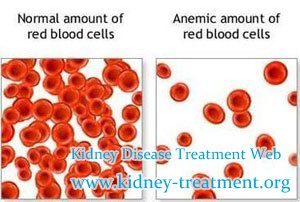 How is anemia related to chronic kidney disease? Anemia commonly occurs in people with chronic kidney disease (CKD)—the permanent, partial loss of kidney function. Anemia might begin to develop in the early stages of CKD, when someone has 20 to 50 percent of normal kidney function. Anemia tends to worsen as CKD progresses. Most people who have total loss of kidney function, or kidney failure, have anemia.
What causes anemia in chronic kidney disease ?
You know that the healthy kidneys produce a hormone called erythropoietin (EPO). A hormone is a chemical produced by the body and released into the blood to help trigger or regulate particular body functions. EPO prompts the bone marrow to make red blood cells, which then carry oxygen throughout the body.
When kidneys are diseased or damaged, they do not make enough EPO. As a result, the bone marrow makes fewer red blood cells, causing anemia.
How to treat anemia occurs in chronic kidney disease ?
The first step in treating anemia is raising low iron levels. Iron pills may help improve iron and hemoglobin levels. However, for patients on hemodialysis, many studies show pills do not work as well as iron given intravenously.
Also diet, Red Blood Cell Transfusions, Vitamin B12 and Folic Acid Supplements will be helpful for treating anemia, but for anemia caused by chronic kidney disease those measures are not enough.
As we all know the anemia occurs in chronic kidney disease is caused by kidney disorder, so if you want to correct it, you have to repair the damaged kidneys or correct the kidney disorder. Micro-Chinese Medicine Osmotherapy as one of the most effective treatment of kidney disease is a good choice.
If you have other questions or need any help in treating chronic kidney disease, you can leave message to us, we will try our best to help you.
Any questions? Fill the form below. You will surely get the free medical advice from experts within 24 hours.