How Is CKD Related to Cold Legs and Feet
2013-10-09 11:51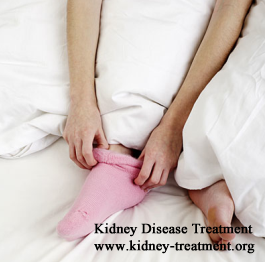 How is CKD related to cold legs and feet? A Patient with Chronic Kidney Disease once asked our online consultant. Generally speaking, cold sensations to legs and feet comes from damage to the nerve system and poor blood circulation. Sometimes, cold exposure may also be the reason.
The link of kidneys, blood circulation and nerve system
Kidneys are remarkable organs responsible for not only cleansing blood but also regulating blood pressure and maintaining fluid and electrolyte balance. Blood circulation is in charge of transporting blood and oxygen to various organs and taking away metabolic wastes. Healthy kidneys and normal blood circulation provide a good environment for nerve system.
How does CKD cause cold legs and feet?
With chronic kidney disease, the interlink of kidney function, blood circulation and nerve system is disturbed easily. In this case, several conditions can cause cold legs and feet.
The first one is diabetes. Diabetes is currently the leading cause of kidney disease throughout the world. If uncontrolled effectively, it can damage blood vessels and nerve system. With inadequate blood flowing into legs and feet or numbness sensation, patients feel cold in these regions easily.
The second one is hypertension. It can be either primary cause or complication of kidney disease. Floated hypertension can cause damage to arteries in legs and feet so as to make patients have cold feeling.
The third one is swelling: Some CKD patients commonly complain of swelling. Too much fluid accumulating in tissue spaces may impede normal blood flow throughout legs and feet.
The last one is cold exposure: Cold feeling is a normal response to cold weather. CKD patients should avoid cold exposure, for their low immunity.
From the above analysis, we can know cold legs and feet can reveal many underlying causes. Well control of these conditions are good to not only improve their life quality but also slow down the progress of kidney disease. If you have a similar problem, you can email your test report to kidney-treatment@hotmail.com. Kidney experts here will give you some treatment suggestions and home remedies in 24 hours.
Any kidney problems? Please consult our online doctor. The satisfaction of patient is as high as 93%.
Have a question regarding kidney disease? Get an answer from Medical Professional now!