What are the Symptoms of Gout for CKD Patients
2014-01-25 02:51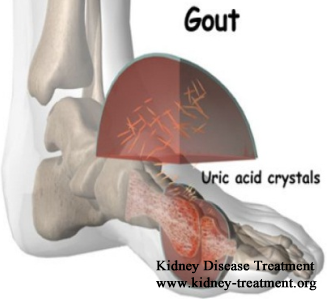 What are the symptoms of gout for chronic kidney disease (CKD) patients? Gout is often a complication for CKD patients, when their kidneys are damaged severely. Before we get the symptoms of gout for CKD patients, we need first know how CKD causes gout.
How does CKD cause gout?
The gout is mainly caused by the high uric acids level in blood. When people get high uric acids level (hyperuricemia), the urate crystals will build up around the joints, and it will cause inflammation and sever pain when people have gouts.
For CKD patients, their kidneys are damaged and the excess uric acids cant be excreted into urine, this will cause high uric acid level and patients are more easily to have gouts.
What are the symptoms of gout for CKD patients?
Sings and symptoms of gout for CKD patients are generally acute, they often occur on suddenly and without warning. And the gout often occurs mostly at night.
- Severe pain in joints
Patients often experience severe pain in ankles, hands, wrists, knees or feet, and the big toe is more commonly to be affected.
- Gradually goes away
If the gout is left untreated, it may last for one week, and then is will gradually go away during the following week or two.
- Itchy and peeling skin later
For people with gout, they may feel itchy skin and peeling skin around the affected area, which may make people torturous.
- Redness and inflammation
People may have tender, red ans swollen joints in the area with gout, and they may also experience the most pain.
- Red/purplish pain
The affected area may become red or purplish.
- Fever
Because of the inflammation and infections, some people may have an elevated temperature.
- Less flexibility
The affected joint may become harder, which will make people have a difficulty to move.
- No symptoms
Some people may have no symptoms when they have gouts, in this condition, the gout can easily get into chronic gout.
- Nodules
The gout may first occur as tophi (nodules) in elbows, hands or ears.
Above are the common symptoms of gout for CKD patients, so if patients have one or more of these symptoms, they need to have effective treatment to control it, in order to prevent it develop into more serious conditions.
Any questions? Fill the form below. You will surely get the free medical advice from experts within 24 hours.