What are the Bad Effects of Hypertension in Diabetic Nephropathy
2013-11-29 17:06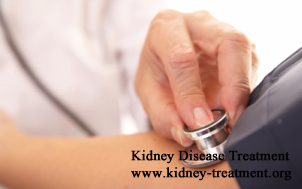 As we know, hypertension and diabetes are bad companions, and they are both harmful for human body. For diabetic nephropathy patients, they often have the symptom of high blood pressure. Then, what are the bad effects of hypertension in diabetic patients?
Diabetic nephropathy can be developed from people who have diabetes, which cause kidney damage. In this condition, people may get high blood pressure due to the kidney damage. This is more common in people with type 1 diabetes. We know that high blood pressure is harmful for people's health, and it may cause many other diseases. For diabetic patients who have high blood pressure, they may get many complications such as heart disease. On the other hands, the uncontrolled hypertension will also aggravate the kidney damage and reduce the kidney function severely.
How important is it to control hypertension for diabetic patients?
If patients with diabetes have hypertension, they are recommended to control high blood pressure firstly. Effective blood pressure control is an important goal for diabetic patients. As high blood pressure can cause heart disease, a stroke and some other complications, well-controlled blood pressure will make a powerful impact on long-term health for diabetic patients. The target blood pressure is <130/80 mmHg in diabetic patients. Researches show, if diabetic patients control the blood pressure in this target well, they may have significant improvements in long term cardiovascular and kidney health.
How to control the high blood pressure for diabetic patients?
For diabetic patients with high blood pressure, if the high blood pressure is in the range of 130-139/80-89 mmHg, they are advised to change their lifestyles and other bad habits to achieve the goal of controlling blood pressure, such as weight loss, salt restriction, dietary changes, quitting smoking and limiting alcohol intake. All these changes are necessary for the tight control of blood pressure.
Medicine treatment is a necessary step for most patients with diabetic. Taking medicines can control the high blood pressure effectively. Therefore, there are some effective medicines for diabetic patients, such as ACE Inhibitors, and Angiotensin Receptor Blockers (ARBs).
From the above, we can know the bad effects of hypertension in diabetic patients, and we get the importance and treatments to control high blood pressure. Therefore, doe diabetic who are running high risk for high blood pressure, they should pay more attention to their blood pressure and measure their blood pressure regularly. Once their blood pressure is elevated for some reason, they need to take corresponding measures as soon as possible, so as to avoid unnecessary health tissues. If you are suffering diabetes and high blood pressure, it's better for you to have some tests and find out the real cause of your illness. You should follow the advices of your doctor to control the high blood pressure which will be beneficial for the recovery of your illness condition.
Any questions? Fill the form below. You will surely get the free medical advice from experts within 24 hours.