How Does IgA Nephropathy Cause Hematuria
2013-09-20 15:56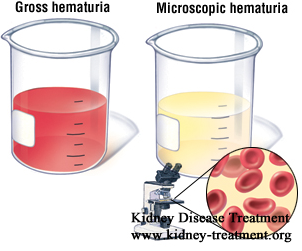 Repeated hematuria is a typical characteristic of IgA Nephropathy, also the dominant symptom of this kind of kidney disorder. Well, how does IgA Nephropathy cause hematuria? And why it is so hard to bring this symptom under control?
How does IgA Nephropathy cause hematuria?
In medicine, hematuria is divided into microscopic hematuria and gross hematuria. For microscopic hematuria, the diagnosis of it needs microscope, whereas for gross hematuria, it usually presents as red, dark-orange, tea-colored or so on.
In cases of IgA Nephropathy, hematuria can be microscopic or gross. And according to clinical statistic, about 30% to 40% of IgA Nephropathy patients have repeated gross hematuria. Hematuria is also called blood urine which is diagnosed when excess red blood cells leak into urine. In normal condition, red blood cells are kept in our body while they flowing through kidneys. However, for IgA Nephropathy patients, their glomeruli are injured. As a result, red blood cells leak into urine, forming hematuria. Repairing injured glomeruli plays an important role for IgA Nephropathy patients to bring hematuria under control.
Why it is hard for IgA Nephropathy to bring hematuria under control?
In many cases of IgA Nephropathy, hematuria is always accompanied with proteinuria. And most of the times, gross hematuria is left alone. With the progression of illness, more and more discomforts or symptom occur. At that time, various oral medicines will be prescribed to manage them. These oral medicines are effective in relieving symptoms, but unfortunately, they are not a good option in the long run.
For IgA Nephropathy patients, occurrence of hematuria and other symptoms is caused by injured kidney tissues and impaired kidney function. Therefore, only when kidney damages are repaired, can impaired kidney function be restored. Also, can hematuria and other symptoms be relieved effectively.
Any kidney problems? Please consult our online doctor. The satisfaction of patient is as high as 93%.
Have a question regarding kidney disease? Get an answer from Medical Professional now!