Home Remedies for Feet Swelling in Kidney Failure
2014-01-23 05:36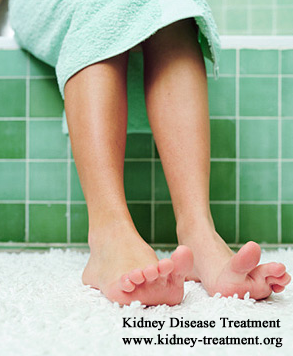 Kidney failure is a common kidney disease with the kidney function gradually reduced, and in this process, kidney failure patients will suffer from some obvious symptoms, such as swelling, proteinuria, high blood pressure and blood urine. In this article, we will reduce some home remedies of feet swelling for kidney failure patients.
Swelling in feet is a common symptom for kidney failure patients, and they can take some home remedies to relieve their feet swelling.
1. Dandelion root tea
Dandelion is a common herb in China which is used for centuries to treat some kinds of diseases. Dandelion root tea is often regarded as a natural diuretic for kidney disease patients, which can help remove the excess fluids in body and relieve the swelling in body. Besides, the dandelion greens can be eaten in salads or cooked, which can also have the same function with dandelion root tea.
2. Burdock root
Burdock root is another common herbal medicine in both western and eastern countries, and it is popular by its function of cleaning blood. Besides it also contains anti-inflammatory properties, which is helpful for kidney failure patients to prevent the further damage of kidneys caused by inflammations.
In addition, it is also famous as removing swelling in legs and feet effectively, it can be applied as a poultice or used in salads and dried in tea, all these will be helpful for kidney failure patients to relieve their swelling in feet.
3. Cranberries
Because of the high vitamin C, antibacterial properties and the presence of anthocyanin, a potent antioxidant, the cranberries can help increase the urination, in this condition, it can help relieve the swelling in feet.
From these home remedies, kidney failure patients can relieve their feet swelling, however, if the feet swelling is too serious, they need to take some medicines to help remit their swelling. Besides, the swelling is mainly caused by the reduction of kidney function, so kidney failure patients need to have some effective treatments to remedy their kidney damage, which can help relieve the feet swelling fundamentally.
Any questions? Fill the form below. You will surely get the free medical advice from experts within 24 hours.