What Is The Highest Creatinine Level That You Can Live Without Dialysis
2017-12-18 11:11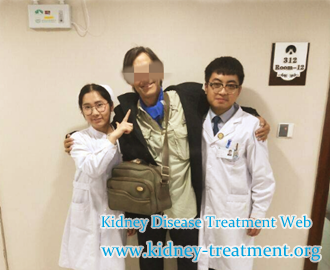 Patient 12-17 14:33:30
What's the highest creatinine level that you can live without going on dialysis?
Kidney expert 12-17 14:33:43
It depends on illness condition. If the patients have some serious complications, they may start dialysis when the creatinine level is 5.2 or less. But, for the patients who do not have any discomforts, dialysis is not need right now. However, no matter the patients have sufferings or not, please take an active treatment to repair the diseased renal cells and tissues as soon as possible, or else, dialysis can not be avoided. Does the patient has diabetes, high blood pressure, or other problem?
Patient 12-17 14:34:37
No. An auto-immune disorder that the doctors can't label or figure out.
Kidney expert 12-17 14:34:52
What is the current kidney function or creatinine level?
Patient 12-17 14:36:25
It went from a 1.1 to a 4 unexpectedly and the did a biopsy and then it's currently at a 7, which puts them back to dialysis.
Kidney expert 12-17 14:36:57
When did the patient start dialysis?
Patient 12-17 14:37:14
3 weeks ago.
Kidney expert 12-17 14:37:31
I see. As he do not be on dialysis such long, there are still probabilities for him to get rid of dialysis with the help of a systematic treatment.
Patient 12-17 14:38:56
P.S. This is a transplanted kidney that was given by a family member that has worked for 5 years and the creatinine always was at a 1.1.
Kidney expert 12-17 14:39:20
Please do not worry. Some well-planned Chinese medicines like Toxin-Removing Therapy, Moxibustion Therapy, Immunotherapy and so on will be put into use to help him clean up the harmful substances from body and reverse kidney function naturally on the basis of his illness conditions. Would send his test reports to my e-mail kidney-treatment@hotmail.com? I will give you more information after analyzed it.
Patient 12-17 14:39:36
Ok. Thank you in advance. I will give it to you later.
Any questions? Fill the form below. You will surely get the free medical advice from experts within 24 hours.