How to Diagnose Lupus Nephritis
2013-08-16 18:58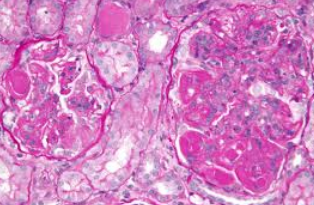 Lupus Nephritis is caused by Systemic Lupus Erythematosus(SLE). It is a kind of autoimmune disease, and has the same theoretical basis with idiopathic glomerular diseases. Thereby, misdiagnosis is easy to happen.
There are some differences between them, which can be used to distinguish Lupus Nephritis from idiopathic glomerular diseases. For example, Fever is not easy to see in patients with idiopathic glomerular diseases, except patients get infected. So kidney disease with fever can be a characteristic of Lupus Nephritis. If patients with nephritis have the symptoms like arthralgia and rash, especially when these appear in women, it is highly possible to be diagnosed as Lupus Nephritis.
There are many steps to diagnose if the patient has Lupus Nephritis, and here are some main points:
Urine routine test
It has significant meaning in diagnosing Lupus Nephritis to examine the changes of uric ingredient. Patient with Lupus Nephritis may have blood urine, urine protein and some other disorders.
Blood test
If the erythrocyte sedimentation rate accelerates in patients with kidney disease, it may be Lupus Nephritis, because this is a special symptom of Lupus Nephritis. Most lupus nephritis patients will have hyperglobulinemia, so this can also be an indication. And if kidney disease patient has Lupus Nephritis, CIC in his blood may increase. Certainly, there are many changes in the blood of lupus nephritis patients, for example, there are many other changes in blood, such as the reducing of white cells, red cells and blood cells, and so on. Besides, there are also symptoms like high creatinine level, high urea level, and so on, because the kidney function is damaged.
Autoantibodies test
When patients have SLE, there will be many autoantibodies in hos blood, which is meaningful in diagnosing Lupus Nephritis. They are antinuclear antibodies, antibody for ds-DNA, antibody for m, anti-histone antibody and antibody for SSA and SSB, etc.
Besides, patients can also have renal biopsy and lupus band test. Especially, renal biopsy can have an accurate result.
There are many details in the diagnosis of Lupus Nephritis. If you have any doubt, you can contact us, and we will give you an detailed answer in time.
Any kidney problems? Please consult our online doctor. The satisfaction of patient is as high as 93%.
Have a question regarding kidney disease? Get an answer from Medical Professional now!