Lupus Nephritis Patient Should Pay Attention to High Blood Pressure
2016-10-08 10:33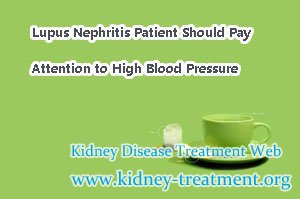 High blood pressure is closely associated with Lupus Nephritis, because once the disease attacks, his or her kidneys have been impaired already. Damaged kidneys often lead to elevated blood pressure from those two aspects.
Once blood pressure rises, the internal pressure of glomeruli also elevates. The high blood pressure forces glomeruli to function even harder than normal which would lead to their overwork and result in the damages in the end. Plus, hypertension accounts for the ischemia and anoxia of kidneys, all those factors contribute to your damaged kidneys.
Hypertension exists when Lupus Nephritis forms for a long time. Its clinical characteristics can be:
The incidence rate of elevated blood pressure increases gradually along with the duration of LN. Take this for example, only 30.5% of patients with LN suffer from rise in blood pressure within 3 years after their onset, but more than 46% of patients are complicated with hypertension when their course of disease exceeds 5 years.
To make things worse, if a patient develops Lupus Nephritis and has family history of elevated blood pressure, they are more prone to suffer from increased blood pressure than those without.
The extent of their proteinuria is also closely connected with the incidence rate of increased blood pressure.
If you are a Lupus Nephritis Patient suffered from high blood pressure, you should take the proper treatment timely, otherwise, you disease may lose control and progressed into kidney failure in a rapid speed, then you have to take dialysis or renal transplant.
If you want to know what treatment is effective for treating Lupus Nephritis with high blood pressure, you can send email to us or leave message below, we will try our best to help you.
Our email: kidney-treatment@hotmail.com
Any questions? Fill the form below. You will surely get the free medical advice from experts within 24 hours.