The Effect of Calcium and Phosphorus in Nephrotic Syndrome
2013-10-11 16:09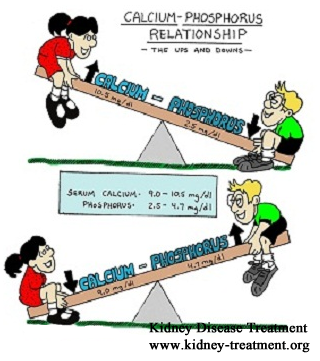 Why do we do calcium, phosphorus and potassium test during Nephrotic Syndrome? Nephrotic Syndrome is a problem in kidney, but patients are usually asked to testing their calcium and phosphorus level in blood. Why is this?
Test for calcium and phosphorus is necessary for Nephrotic Syndrome, as it helps to know well about patients' illness condition. Moreover, it plays an important part in treating Nephrotic Syndrome.
Nephrotic Syndrome can cause calcium-phosphorus metabolism disorder. Nephrotic Syndrome is marked by massive protein in urine which is caused when permeability of glomerular filtration membrane is increased. Though proteinuria is caused by kidney problem, in turn it aggravates Nephrotic Syndrome and worsens kidney condition. Kidney is responsible for electrolyte balance. When kidney function is affected, electrolyte disturbance will be caused. At that time, large amounts of phosphorus will build up in the blood, leading to hyperphosphatemia which can cause decreased calcium level in the body. High phosphorus level and low calcium level in blood is very common among patients with kidney disease, including Nephrotic Syndrome.
In normal condition, calcium and phosphorus in the body react in opposite ways. For patients with Nephrotic Syndrome, when large amounts of phosphorus can not be discharged successfully within a certain time, calcium level in the blood will decrease. Under such condition, Nephrotic Syndrome patients need to reduce phosphorus intake and increase calcium intake by reducing phosphorus intake and increasing calcium intake.
Besides, aside from calcium-phosphorus metabolism disorder, Nephrotic Syndrome patients also run high risk for high potassium level which can cause heart problem like arrhythmia. Therefore, preventing electrolyte disturbance actively is very important for Nephrotic Syndrome patients.
Any questions? Fill the form below. You will surely get the free medical advice from experts within 24 hours.