Recommended Diet for Polycystic Kidney Disease
2013-10-10 10:46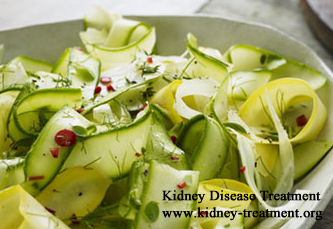 What is the recommended diet for Polycystic Kidney Disease? We are asked to make diet changes when there is kidney problem, as some foods may make kidney condition worse. Therefore, people with kidney disease need to be very careful about foods they eat. PKD (Polycystic Kidney Disease) is a genetic kidney problem that can affect kidney condition. Therefore, once being diagnosed with PKD, we need to adjust our diet. Well then, what is the recommended diet for Polycystic Kidney Disease?
Recommended diet for Polycystic Kidney Disease includes:
Low-salt diet
A low-salt diet is recommended for Polycystic Kidney Disease patients. Salt is rich in sodium, and high sodium diet will cause elevation of blood pressure. Therefore, PKD patients need to stay far away from salted foods like pickles, bacon, processed foods and sauce and so on.
High potassium diet is suggested if potassium level in blood is in normal range
For PKD patients living with normal potassium level, they can try to eat some high potassium foods like banana and spinach, because high potassium intake helps to lower or prevent high blood pressure which is a symptom of Polycystic Kidney Disease. However, if PKD patients are told there is high level of potassium level in their blood, they need to limit potassium intake and try to eat some low potassium or potassium-free foods.
Improper protein intake
Polycystic Kidney Disease patients need to adjust their protein intake according to their illness condition. In general, they need to limit protein intake and try to eat some high quality protein like lean meat, egg white, fish and milk. However, if they have started dialysis due to kidney failure caused by Polycystic Kidney Disease, they need to ingest much more protein to replenish those lost during dialysis.
Drink much more fluid
If there is no fluid retention, Polycystic Kidney Disease can drink much more soup, which will help to prevent urinary tract infection and kidney stone.
Limit phosphorus intake if there is high level of phosphorus in blood
High phosphorus foods include sunflower seeds, toasted wheat germ, cheese, sesame seeds and nuts and roasted soybeans and so on. High level of phosphorus will affect calcium level in blood, which can cause a series of bone problems like bone pain, bone fracture and osteoporosis.
Recommended diet for Polycystic Kidney Disease differs from case to case. Therefore, you need to find the right one for you before making any diet changes.
Any kidney problems? Please consult our online doctor. The satisfaction of patient is as high as 93%.
Have a question regarding kidney disease? Get an answer from Medical Professional now!