What Should be the Next Steps to Hypertension Caused by Kidney Cysts
This article was provided by doctor zhengfalei 2017-09-22 09:32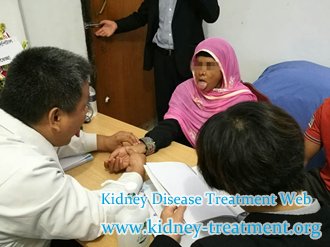 Patient 09-20 00:11:47
I have just had an ultrasound scan on my kidneys as I suffer from white coat syndrome high BP readings when readings are taken at the doctors surgery and although my home readings average around 135/75 my GP and a renal specialist have arranged these tests. The operator told me what she could see. Should the cyst cause hypertension? What should be the next steps?
kidney-expert 09-20 00:12:15
Any symptoms now? like foamy urine, swelling, fatigue, back pain, anemia, itching, etc
Patient 09-20 00:20:22
I have itching in odd places like inside my left ear and around the crease in my left elbow and occasionally on the palm of my hand which I have assumed is down to aging. I do seem to lack energy more often these days but again as I am 69 I put it down to ageing, it is common among my old friends and aquaintances. very slight swelling around my sock elastic line.
kidney-expert 09-20 00:20:35
Yes, the growth cysts can not only rise the blood pressure but also damage your kidneys. For you case, the itching, tiredness and swelling are likely to be caused by the injured kidneys. Do you know what is your kidney function or creatinine level?
Patient 09-20 00:21:02
I have tested, but now the reports are not with me.
kidney-expert 09-20 00:21:28
How about this, send your medical reports to me. And I will analysis your illness conditions and thus give your correct information about diets as well as natural treatments.
Patient 09-20 00:22:03
What are your natural treatments?
kidney-expert 09-20 00:22:11
We adopt Toxin-Removing Therapy, Micro-Chinese Medicine Osmotherapy, Full Bath Therapy, Immunotherapy and others to help the patients reduce the fluid in the cysts spontaneously, remit the discomforts and improve the kidney function. If you are interested in these, please give me your e-mail address, I will send the details to you.
Patient 09-20 00:23:45
OK. I will send you my medical reports later. Please reply me as soon as possible.
Any questions? Fill the form below. You will surely get the free medical advice from experts within 24 hours.