Is Dandelion Root Tea Good for PKD Patients
2013-12-29 10:25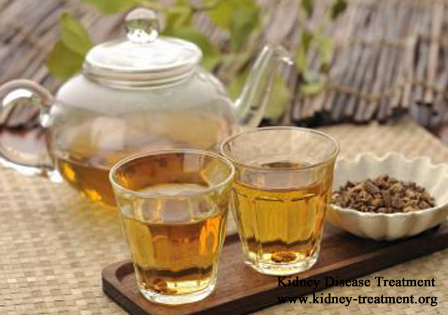 Is dandelion root tea good for PKD patients? Polycystic kidney disease is a genetic kidney disease with numerous cysts growing in kidneys and cause the kidney tissues damaged. The cysts will be also enlarged or even ruptured, which will cause further od kidneys and other surrounding organs.
In order to remit the serious symptoms and slow down the progression of kidney failure, PKD patients often try some natural ways to remedy their kidney damage, among the therapies, Chinese herbal medicine is a good choice for them. So some PKD patients ask the question mentioned above, is dandelion root tea good for PKD patients?
Dandelion root tea is a common herbal tea for people to treat many different diseases, and it is also effective in treating kidney diseases. Dandelion root tea is often regarded as diuretic, which can help kidney patients to enhance the excretion of toxins and wastes from the kidneys. So for PKD patients, drinking dandelion root tea also good for them.
There are some common benefits for PKD patients of drinking dandelion tea
- Helpful in detoxify the liver
Dandelion root tea can help people to enhance bile production, which can help the liver clear out the toxins and wastes.
- Improve the appetite
PKD patients often have the symptom of loss nausea, vomiting and loss of appetite, which will reduce their life quality. Dandelion root tea can help improve the appetite.
- Herbal diuretics
Dandelion root tea is often regarded as a diuretic, which has no side effects for patients. It can also help prevent the urinary tract infection, lower high blood pressure and remit the symptom of swelling.
- Prevent inflammation
Dandelion root tea can also help prevent the inflammation in kidneys and improve the immune system, which can prevent the infections. As infections will aggravate the progression of PKD.
Above are the benefits of drinking dandelion herbal tea, which can help PKD patients remit their symptoms and improve their kidney function. However, the illness condition is different from case to case, PKD patients should ask the advices before they want to take some herbal teas to remedy their kidney disease.
Any questions? Fill the form below. You will surely get the free medical advice from experts within 24 hours.