How to Treat Headache for Polycystic Kidney Disease Patients
2014-01-24 05:53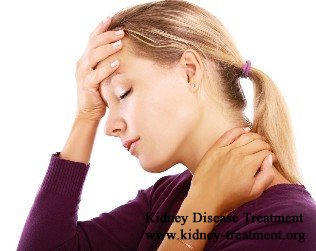 Polycystic kidney disease (PKD)is a genetic kidney disease with numerous cysts in kidneys. And PKD often have the symptom of headache, which will affect their normal life. In this article, we will give some suggestions to treat the headache for PKD patients.
What can cause headache for PKD patients?
- High blood pressure
High blood pressure is a common symptoms for PKD patients, if the high blood pressure cant be controlled well, patients will suffer from headache, dizziness and some other serious discomforts. In serious cases, it may even lead to stroke.
- Cerebral aneurysm
Aneurysm is also a complication for PKD patients, and it is a serious condition for patients. The celebral aneurysm will easily cause headache for patients, so they need to have immediate treatment if they have diagnosed with celebral aneurysm.
How to treat headache for polycystic kidney disease (PKD) patients?
1. Keep a positive mood
A positive mood should be the first important thing for patients during their treatment. And a positive mood will help improve the therapeutic effects.
2. Keep a healthy lifestyle
PKD patients should keep a healthy lifestyle, which can help them prevent the further damage of their kidneys, and help control the symptoms and complications. They need to keep a well-planed diet, such as low-fat, low-salt and low-protein diet, this can help control high blood pressure and reduce kidney burden.
3. Take some medicines
Patients can take some medicines to control their high blood pressure, the common used medicines include ACEI, ARBs, diuretics, etc.
4. Treatment for PKD
In order to control high blood pressure and prevent the formation of celebral aneurysm, PKD patients need to have effective treatment to remedy their kidney disease. The recommended treatments contain acupuncture, medicated bath, foot bath and Chinese herbal medicine. All these therapies can help shrink the kidney cysts, repair the kidney damage and improve the kidney function.
For PKD patients who suffer from headache need to find the basic cause of their headache, and have effective treatment to remit the headache. If you still have some questions, you can leave a message below, we will answer you as soon as possible.
.
Any questions? Fill the form below. You will surely get the free medical advice from experts within 24 hours.