Skin Itching in Kidney Disease How to Treat It
2015-08-16 17:22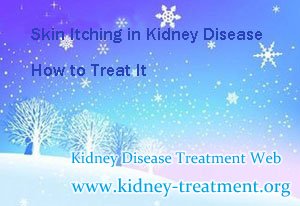 Skin itching in kidney disease how to treat it ? Many kidney disease patient, especially the patient who are in the advanced stage of kidney disease will experience skin itching, so the causes and treatment of this symptoms are associated with many people.
What are the causes of skin itching in kidney disease ?
1.Healthy kidneys play significant roles in discharging wastes, toxins and extra fluid out of the body. However, when kidneys fail, large amount of toxins will build up in the body, and the uremic toxins may irritate the nerves ending, resulting in skin itching.
2.High phosphorus level: In advanced stage of kidney disease, imbalance of calcium and phosphorus may occur, in this condition, skin itching is more likely to appear.
3.Diabetes: Due to high blood sugar level, patients are more susceptible to bacteria and fungal infections, in this case, skin itching can also occur. In addition, this sign can also be the result of dialysis.
How to control skin itching in kidney disease ?
In daily life, patients need to pay attention to the following contents:
1.Never scratch your skin, otherwise, there can be severe infections. If you can' help scratching it, you can cover the area with bandages to protect your skin.
2.Take a warm bath, if possible, sprinkle the bath water with baking soda.
3.If the lab test show high phosphorus level, it is essential to restrict the intake of high-phosphorus foods, which can found in condiment, nuts, dairy products and so on.
4.If skin itching occur during or after dialysis, do remember to check with your doctor immediately to find out the root cause.
5.To ease skin itching fundamentally, the most important step is take measures to repair the injured kidney structures and improve kidney function. Here, treatments like Micro-Chinese Medicine Osmotherapy, Immunotherapy, etc can be their good choices.
If you need any other help in treating kidney disease, you can leave message to us, we will try our best to help you.
Any questions? Fill the form below. You will surely get the free medical advice from experts within 24 hours.