10 Signs of Chronic Kidney Disease
2016-12-20 16:41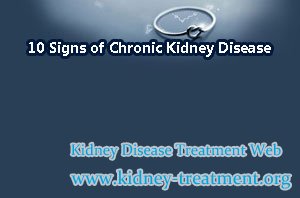 Today, i will share you 10 signs of kidney disease, it can help you diagnose your disease at early stage.
1. Changes in urination
They include urinating more frequency during the night or in greater amounts; urinating less often or in small amounts; difficulty urinating and having foamy or bubbly urine or blood in the urine.
2. Leg, back or side pain
Kidney cysts resulting from PolycysticKidney Disease can also cause back and leg pain. So if you got those symptoms, do go to see your doctor timely.
3. Swelling
You may experience swelling in your legs, feet, face, ankles or hands if your kidneys are unable to remove extra fluid from your body.
4. Nausea and vomiting
Because kidneys are failed to remove the waste products, the waste buildup in the blood can also cause nausea and vomiting.
5. Feeling cold
Anemia is a common complication of chronic kidney disease. It can result in a variety of symptoms, including constantly feeling cold and shortness of breath.
6. Fatigue
Anemia may make you experience tired muscles, weakness and even overall fatigue.
7. Metallic taste in mouth
When waste accumulates in the bloodstream, it can cause bad breath, a metallic taste in the mouth, and affect how food tastes, which may cause a change in appetite.
8. Shortness of breath
Chronic kidney disease can cause extra fluid to build up in the lungs, leading to shortness of breath. We have mentioned above, anemia is another reason causing shortness of breath.
9. Skin rash
The buildup in the bloodstream can cause rashes and severe itching
10. Dizziness and trouble concentrating
When you suffer from anemia related to Renal Failure, both your body and your brain will be lacking the proper amount of oxygen. The result can be dizziness, trouble with concentration, and memory-related issues.
If you need any help in treating Kidney Disease, you can send email to us, we will try our best to help you.
Our email: kidney-treatment@hotmail.com
Any questions? Fill the form below. You will surely get the free medical advice from experts within 24 hours.