A Connection Between Migraines and Chronic Kidney Disease
2013-11-15 14:51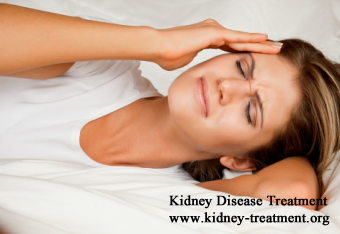 Chronic Kidney Disease (CKD) progresses slowly. Most often, patients need to fight against it for the rest of their life. This may cause a series of problems both physically and mentally. Because of these problems, CKD patients are more likely to have migraines.
Communicating with people with Chronic Kidney Disease, we will find quite a number of patients are tormented by either occasional or frequent migraines. Usually, migraines are connected with CKD, by four reasons.
1. High blood pressure
As kidneys have an function of regulating blood pressure, diseased kidneys cause hypertension easily. What's worse, the more advanced kidney disease, the higher blood pressure. In most cases, hypertension occurs accompanying with headache or migraine, palpitation and hidrosis.
2. Some certain types of kidney disease
CKD contains many types of kidney disease. If yours is Polycystic Kidney Disease (PKD), brain aneurysm is one most common symptom. With the growth of brain aneurysm, it will oppress cerebral nerve, thus resulting in migraines easily. On the other hand, if brain aneurysm ruptures, it will cause more severe problems.
3. Mental stress
Long-term kidney disease may cause big mental stress on patients, because some of them are pressured by financial problem or some others are tormented by severe complications. Then, they don't want to talk more about their medical condition with family members, friends and other people. This big mental stress is another reason for migraine.
4. Side effects of some medications
If patients have back pain or pain in other areas, they may try some painkillers to ease their pain. However, migraine is one side effect of these medications. Besides, if stopping anti-hypertensive agents suddenly, it can also cause migraine.
Since migraine is one sign of some underlying problems, you should try to not only ease it but also deal with the underlying causes. Meanwhile, always remember not to take any medication blindly, because it may damage your kidneys.
Any questions? Fill the form below. You will surely get the free medical advice from experts within 24 hours.