Top 5 Signs or Symptoms of Kidney Problems in Men
2013-11-21 08:57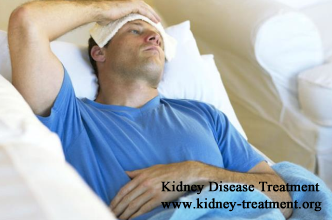 Because of special body structure and immune system, male patients with kidney disease may have some different symptoms with female. Learn about the top 5 signs or symptoms of kidney problems in men that can help these patients deal with their problems timely.
1. Weight gain or swelling
When men have kidney problems, their body usually changes obviously. Swelling is one sign of kidney problem and most often appears in ankles, legs, feet, hands, face, etc. As too much fluid retains in these regions, men with kidney disease may suffer from sudden weight gain.
2. Bubble urine
Excluding unhealthy lifestyle, bubble urine indicates there is protein in urine. According to the different location of kidney damage, proteinuria is divided into two types: glomerular proteinuria and renal tubular proteinuria. If left alone, proteinuria will worsen their kidney condition.
3. Urinary tract infection or kidney infection
Generally speaking, urinary tract infection or kidney infection occurs rarely in men, but once they appear, infections are usually serious sign of kidney problem for male. A kidney infection, also known as pyelonephritis, may eventually cause kidney failure.
4. Back pain
Back pain or flank pain is also one symptom of kidney problem. If you have back pain, doctors may recommend you to do tests for detecting the underlying causes. The movement of kidney stone, urinary tract infections, the enlargement of kidney cyst, IgA Nephropathy, etc, all can lead to back pain. Try to find out what causes your problem with doctor's help.
5. Sexual problems
When kidneys are damaged, they are unable to filter out waste products and toxins from the body normally. Also, they can't produce enough EPO to stimulate the body to make red blood cells. Anemia and build up of waste products in the body may lead these men to feel tired all the time. This can lower these people's desire to have sex life.
The above are common symptoms of kidney problems in men. If you have one or more the above mentioned, send an email to kidney-treatment@hotmail.com, so we can help you make an accurate diagnosis or a treatment plan.
Any questions? Fill the form below. You will surely get the free medical advice from experts within 24 hours.