How to Treat Anemia Due to Chronic Kidney Disease
2013-11-23 14:54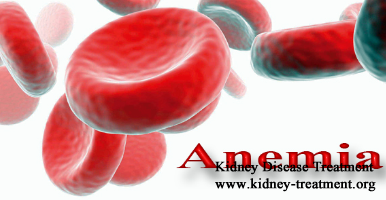 How to treat anemia due to Chronic Kidney Disease? Anemia caused by kidney disease is usually called Renal Anemia which appears due to decreased kidney function, but if not treated well, it will accelerate illness progression and worsen patients' physical condition. Therefore, treating anemia timely and effectively is very important. Well, the problem is how to treat anemia due to Chronic Kidney Disease so that we can control the illness effectively?
Anemia is a medical condition in which red blood cell account in blood is less than the reference value. Kidney plays a very important role in the formation of red blood cell, as it can secrete a hormone called hemopoietin which is necessary for the generation of red blood cell. When kidneys are damaged and kidney function is affected for some reasons, the production of hemopoietin reduces and this can lead to the decrease of red blood cell account directly.
In medicine, renal anemia is usually treated in the following two ways:
1. Erythropoietin Stimulating Agents
Erythropoietin stimulating agents can help bone marrow to produce more red blood cells and they decrease the need for blood transfusions. Erythropoietin stimulating agents can be injected into a vein with an intravenous needle or injected under the skin. So far erythropoietin therapy is the most commonly used method for patients who are on hemodialysis.
2. Iron replacement therapy
Some people may find they continue to have anemia after they receive erythropoietin therapy. Under such a condition, they need to consider if their iron level in blood is lower than the normal range, because iron deficiency also contributes to anemia. Iron replacement therapy is the most commonly used method for low iron level in blood.
3. Chinese medicine for kidney damages
For people with Chronic Kidney Disease, their kidneys fail to secrete enough hemopoietin as kidney tissues are damaged seriously. In that case, only when injured kidney cells are repaired, can kidney function be improved. Also, only in this way, can the secretion of hemopoietin be increased and anemia gets alleviated fundamentally.
Lastly, anemia caused by Chronic Kidney Disease is treated differently due to the difference of illness condition and what method is recommended depends on patients' specific illness. Here we offer online service. If you are suffering from anemia due to Chronic Kidney Disease and also you find it is hard to get anemia controlled, you can send your test report to kidney-treatment@hotmail.com. Our nephrologists will help you analyze illness condition and make personalized treatment plan for you.
Any questions? Fill the form below. You will surely get the free medical advice from experts within 24 hours.