What Causes Side Pain in PKD Patients
2013-10-09 13:11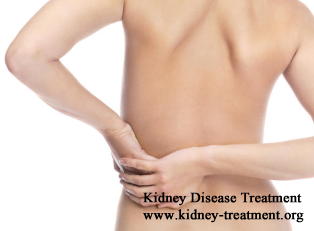 What cause side pain in PKD patients? Side pain is the most common complain among patients with Polycystic Kidney Disease (PKD). And in some cases, the pain may become unbearable, which affects patients' life and sleep seriously. Well, what cause side pain in PKD patients on earth? What can we do to alleviate this discomfort?
PKD is a genetic kidney disorder which can cause formation of fluid collection in kidney. In medicine, fluid collection is called cyst which may appear in different organs like kidney, liver and ovary and so on. For people with Polycystic Kidney Disease, with the enlargement and increase of cyst in kidney, they may find they have pain feeling in two sides of the lower back. And in general, side pain occurs due to the following several factors:
1. Enlarge kidney pull renal capsule, which can cause pain feeling in kidney.
In renal capsule, there are nerves. Cysts in PKD become larger and larger with the increase of cystic fluid and when they enlarge, there is drawing force on renal capsule and the nerves, which can cause pain feeling in kidney location.
2. Rupture of kidney cyst
Without effective control, cysts in PKD will become very big. In that case, these cysts rupture easily and they may burst due to a small knock on lower back. Polycystic Kidney Disease patients may experience side pain when cysts in kidney rupture and in this case, side pain is always accompanied with blood urine.
3. Kidney infection
Kidney infection also can cause side pain. In cases of Polycystic Kidney Disease, both rupture of kidney cyst and urinary tract infection, one of the most common complications of PKD, can cause kidney infection and thus cause side pain.
4. Kidney stone
PKD patients run a high risk for kidney stone which may cause pain feeling in two sides of the lower back when stones get stock in kidney.
Actually, in Polycystic Kidney Disease, all these conditions are caused due to the enlargement of kidney cyst and worsening of illness. Therefore, only when cysts in kidney are shrunk effectively, can pain problem be solved or prevented successfully. Micro-Chinese Medicine Osmotherapy is a herbal treatment which has been proven to be able to shrink cysts in PKD. With this treatment, cysts in PKD can be shrunk and side pain can be alleviated radically. If you are interested in this treatment and want to get more information, you can leave message to kidney-treatment@hotmail.com.
Any kidney problems? Please consult our online doctor. The satisfaction of patient is as high as 93%.
Have a question regarding kidney disease? Get an answer from Medical Professional now!