How to Treat Stubborn Hypertension for PKD
2013-10-23 16:00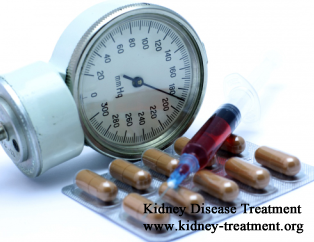 Hypertension, usually as the first symptom of PKD, perplexes many patients. Sometimes, their hypertension can be controlled by correct medication and low-sodium diet, but most patients suffer from stubborn hypertension. Today, we mainly talk about how to treat stubborn hypertension for Polycystic Kidney Disease.
How does PKD cause hypertension?
Polycystic Kidney Disease occurs as a result of the abnormal proliferation of renal tubular epithelial cells. With expansion of PKD renal cysts, they will affect kidney filtration function and regulation function so that hypertension happens in early-stage PKD.
If left uncontrolled, floated hypertension can accelerate the progression of PKD developing to kidney failure by causing further kidney damage. To manage hypertension, doctors usually prescribe two or more types of anti-hypertension medications so as to reduce side effects of these medications. Therefore, most PKD patients are quite familiar with ACEI, ARBs, calcium channel blockers, diuretics, etc. When these medicines fail to work, we call it stubborn hypertension.
How to treat stubborn hypertension for PKD?
As hypertension in PKD is due to fluid and sodium retention in blood vessels and low kidney function, the treatment should include two aspects:
- Dilate blood vessels: This step can help improve blood circulation and reduce the pressure on vascular walls. Also, it is able to increase blood flow to transport more blood and oxygen to kidney functioning cells.
- Protect kidney function: Usually, it indicates only a part of your renal tissues are damaged by enlarged kidney cysts when hypertension just happens. This is the best time to protect kidney function and drain PKD renal cysts. If kidneys can regulate blood pressure again, patients can get rid of stubborn hypertension completely.
Here, we can't make a personalized treatment plan for you in detail, because the illness condition changes from person to person. If you want to get a detailed treatment plan, you can leave your condition description or test report in the below form, kidney doctors here will reply you after analyzing carefully.
Any questions? Fill the form below. You will surely get the free medical advice from experts within 24 hours.