What can Cause Blood Urine for Polycystic Kidney Disease Patients
2014-01-20 07:18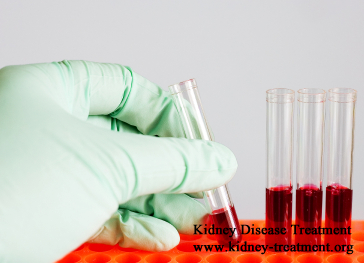 Polycystic kidney disease is a genetic kidney disease, and patients will suffer from some serious symptoms such as proteinuria, blood urine, big belly, back pain and high blood pressure. Some patients send messages to us to asked why they have blood urine, in this article, we will introduce the possible factors that can cause blood urine for polycystic kidney disease patients.
Here are 4 main causes of blood urine for PKD patients.
1. Kidney cysts rupture
Kidney cysts rupture is a common thing for PKD patients, when the kidney cysts become large enough. If the kidney cysts rupture is in kidneys, the blood urine will disappear within a week, and if the kidney cyst rupture is on kidneys, the cysts fluid may flow into the abdominal cavity, which will cause peritonitis. In this condition, patients need to have a surgery immediately in order to prevent the further damage.
2. Kidney stone
Kidney stone is a common complication for PKD patients, which may also cause blood urine. When the stone flow in kidneys, it may injure the kidney tissues, which may cause blood in urine. Besides, when the kidney stone flow into urinary system, it may also case blood urine. For patients whose blood urine caused by kidney stones, they need to have treatment to remove the kidney stones from kidneys. For little stones, patients can drink more water to let the stone out from urine. For the large size of stones, patients need to take some medicines which can help break off the stones or have a surgery to remove the kidney stones.
3. Kidney infections or urinary tract infections
Kidney infections and urinary tract infections can also cause blood urine, and patients in this condition may also have frequency urination, painful during urination and difficulty with urination. Patients can drinking more water if they don't recommend to limit fluid intake, which can help increase the urine output. For severe case, they need to take antibiotics to suppress their infections.
4. Kidney damage
For PKD patients who are in middle stage or advanced stage, their kidneys have been damaged severely. In this condition, the red blood cells will be leaked out from urine, which will cause blood urine, they need to have treatment to remedy their kidney damage to remit their blood urine.
from above, we can know the four main causes of blood urine for PKD patients, so PKD patients should first find the main reason of their blood urine, then they need to have effective treatment to treat their blood urine. If you still have some questions, you can ask our experts online, our leave a message to kidney-treatment@hotmail.com.
Any questions? Fill the form below. You will surely get the free medical advice from experts within 24 hours.