Will Polycystic Kidney Disease Cause IBS
2014-02-03 08:47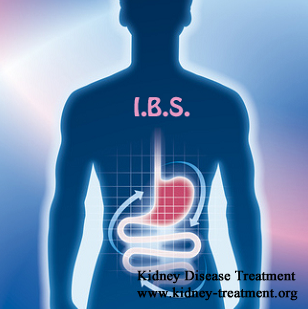 IBS is the abbreviation of (Irritable Bowel Syndrome) which presents as stomachache, abdominal distention and changes of bowl evacuation habits. Polycystic Kidney Disease (PKD) is a genetic kidney disorder marked by countless fluid collection in kidney. Some patients complain they experience IBS after the diagnosis of PKD, so they wonder if there is any link between these two illnesses.
Will Polycystic Kidney Disease cause IBS?
Actually, there is no direct relationship between Irritable Bowel Syndrome and Polycystic Kidney Disease, but in some ways, PKD indeed causes gastrointestinal discomforts. In cases of PKD, cysts become larger and larger over time. This put extra oppress on surrounding kidney tissues and make them have difficulties in functioning. Kidney works through a group of kidney tissues, so when they are injured and fail to work properly, kidney function decreases. Kidney is an organ that serves us as a filter. When they fail to work well, toxins which should have been excreted through kidney will build up in the blood. These toxins may stimulate gastrointestinal tract and thus cause a series of discomforts like diarrhea and stomachache and so on.
Besides, IBS may also results from kidney growth in PKD. Kidney becomes very large too with the enlargement of kidney cyst. Kidney is located in the abdominal cavity and enlarged kidney will oppress gastrointestinal tract and affect it from functioning properly. Under such a condition, IBS appears easily.
How to prevent IBS with Polycystic Kidney Disease?
Since the occurrence of IBS is closely related to worsening of kidney condition, trying to shrink kidney cyst to protect kidney function is very important. Operation can be used to remove big kidney cysts in early stage of PKD and it helps to slow down illness progression effectively. However, cysts in kidney are numerous, and operation can not treat all the cysts at one time. Therefore, it is not a fundamental solution.
When illness deteriorates to advanced stage, Chinese medicines can be applied to improve kidney condition. There are some herbs have been proven to be able to reverse kidney damages. Necrotic kidney tissues can not be revived, so PKD can not be cured. However, with Chinese medicine, kidney function can be improved and this will help to lower the incidence of IBS.
Any questions? Fill the form below. You will surely get the free medical advice from experts within 24 hours.