Common Western Medicines for Polycystic Kidney Disease
2014-01-12 02:54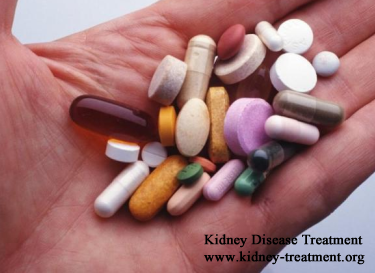 What are the common western medicines for polycystic kidney disease? Polycystic kidney disease (PKD) is a common genetic kidney disease, which will cause patients suffer from some serious symptoms such as high blood pressure, severe pain, urinary tract infection and blood urine. If these symptoms cant be controlled effectively, they will cause further damage to the kidneys. In western countries, the doctors often recommend PKD patients to take some western medicines to control their symptoms.
High blood pressure
High blood pressure is a common symptom caused by the kidney damage, and the uncontrolled high blood pressure will cause further damage of the kidneys. The common western medicines to control high blood pressure contain angiotensin-converting enzyme (ACE) inhibitors, angiotensin II receptor blockers (ARBs), calcium antagonists and diuretics.
Severe pain
Pain is a common symptom for PKD patients, as the cysts on kidneys will get enlarged or ruptured, which will cause severe pain in lower back or the sides. Patients can have over-the-counter medications containing acetaminophen to treat their mild pain. However, if the pain gets more severe and constant, they need to have a surgery to remove the large kidney cysts.
Urinary tract infection
PKD patients should remedy their infections effectively and promptly, which will help them prevent the complications such as blood urine and kidney stones. Patients need to use antibiotics for a long term. The common antibiotics include ciprofloxacin, trimethoprim-sulfamethoxazole, clindamycin and chloramphenicol.
Blood in urine
Blood urine for PKD patients is often caused by the cyst rupture, in this condition, the patients should drink a lot of water to increase the urination, which can help remit the blood urine. They should also a good bed rest to help decrease the bleeding. If the blood urine consists for several days, they need to go to the hospital to have a check.
Above are the common western medicines for PKD patients to help relieve their common symptoms. Although western medicines have amazing effects on relieving the symptoms, they cant repair the kidney damage, and patients will finally get kidney failure. So they should choose some effective treatments which can help repair the damaged kidney tissues and improve the kidney function. In this aspect, Chinese medicines will be a good choice. If you want to learn more about Chinese medicine, you can contact our experts online.
Any questions? Fill the form below. You will surely get the free medical advice from experts within 24 hours.