Does Kidney Patient With Anemia Need The Blood Transfusion
2018-11-07 10:18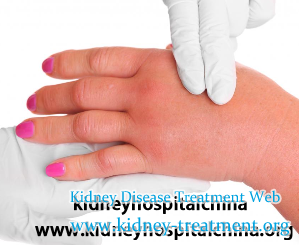 It is said that kidney disease is half cured without anemia. Can kidney failure patients receive regular blood transfusion?
According to statistics, at least half of the patients with kidney disease will suffer from anemia, which in turn will cause kidney anoxia and more kidney cells will have problems, thus exacerbating kidney disease.
In addition to the filtering function, the kidney also has an important function, that is, it secretes erythropoietin.
The biggest role of erythropoietin is to " command" bone marrow to perform hematopoietic function. Therefore, if erythropoietin secretion is insufficient, bone marrow hematopoietic activity will decrease and anemia will occur, which is called " renal anemia".
In addition, patients with kidney disease, especially those with elevated creatinine, have higher blood endotoxin and shorter red blood cell life, which is also a major cause of anemia.
What does this have to do with kidney disease patients not being able to transfuse blood frequently?
Of course, blood transfusion does not help the production of erythropoietin, and there are toxic substances such as erythropoietin inhibitors in the blood, making it difficult for the already small erythropoietin to play its role.
Moreover, as mentioned above, toxins in patients with kidney disease not only inhibit new erythropoiesis, but also kill existing erythrocytes and can speed up the death of erythrocytes. However, the decomposition of dead red blood cells can increase the accumulation of nitrogen metabolites, adding to the burden on the already incapacitated kidneys.
In addition, too much blood transfusion can cause blood urea nitrogen to rise and blood potassium to rise, exacerbating the disease. At the same time, it also increases the chance of importing hepatitis virus.
Normally, it is only necessary to give erythropoietin, iron, folic acid and other drugs in the treatment, and to regulate the appetite of the patients from the diet and supplement the lack of nutritional elements.
From the comments about patient's diet if you have other any questions about that please contact us through the following:
E-mail: kidney-treatment@hotmail.com
Any questions? Fill the form below. You will surely get the free medical advice from experts within 24 hours.