I Have Back Pains is It Due to Kidney Problem
2014-10-22 11:49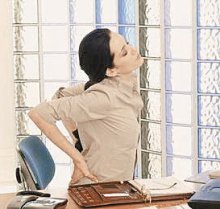 I have back pain is it due to kidney problems ? Actually, many factors can induce back pain, and kidney problem is one of the factor. So we can not judge the disease only according to one symptoms, knowing clear the symptoms of kidney disease can help you make accurate judgment.
Symptoms of Chronic Kidney Disease develop over time if kidney damage progresses slowly. Signs and symptoms of kidney disease may include:
Proteinuria (protein leak into urine, you can see bubbles in urine and it is hard to disappear)
Swelling in feet, eyelid and ankles
Changes in urine output
Back Pain
Weakness
Nausea
Vomiting
Loss of appetite
Fatigue and weakness
Sleep problems
Decreased mental sharpness
Muscle twitches and cramps
Hiccups
Persistent itching
Chest pain, if fluid builds up around the lining of the heart
Shortness of breath, if fluid builds up in the lungs
High blood pressure (hypertension) that's difficult to control
Due to the strong compensatory function of kidneys, those symptoms may not occurred in the early stage of this disease, so that demand you pay closely attention to it. Once you fell any uncomfortable, you should go to see your doctor to make further diagnosis, so as to avoid the big disease.
From the above we know that back pain can be induced by many factors, and it also can be caused by kidney disease. So do not make judgment before you make further examination. If you have other questions or need any help in curing your disease, do not hesitant to contact our online doctor or leave messages to us, we will reply you as soon as possible with free advice.
Any kidney problems? Please consult our online doctor. The satisfaction of patient is as high as 93%.
Have a question regarding kidney disease? Get an answer from Medical Professional now!