High Creatinine Level up to 1.9 without Other Symptoms should People Worry about It
2014-12-19 15:28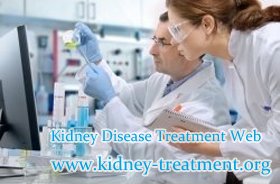 The test reports shows that my serum creatinine is high up to 1.9, all else is normal and myself have no other symptoms. What can cause it ? And should i worry about it ?
Why the creatinine level goes high ?
In fact, the creatinine is the waste of muscle metabolism and it should be filtered through our kidneys' glomeruli and then discharged out by urine. If the glomeruli are damaged and GFR(glomerular filtration function) decreases, these wastes will not be discharged timely, then these toxins will stay in the blood, that is why the serum creatinine shows high.
But many other factors also can affect the creatinine level such as some disease (cold and fever), exercise and meat etc. So you should pay attention to your daily that is helpful for further diagnosis.
Why the creatinine level has been up to 1.9 but the patient has no other symptoms ?
Due to the strong compensatory function, the creatinine level will not increase, only if the kidney function is lower than 50%. So generally once the creatinine level is higher, there is more than 50% kidney function has been damaged. That is why people may have no other symptoms at the early stage of this disease.
For people with creatinine level up to 1.9, you should find the underlying causes of it and then take corresponding measures. If the high creatinine level is caused by non-pathological factors, it will back to normal level after the inducer disappeared. If the high creatinine level is caused by kidney disorder, you should take proper treatment timely. If left untreated, the creatinine level will goes higher. Do pay special attention to your daily life, that is helpful for the early diagnosis.
If you need any help in treading kidney disease or lowering the high creatinine level, do not hesitant to contact our online doctor or leave message to us, we are here waiting to help you.
Any questions? Fill the form below. You will surely get the free medical advice from experts within 24 hours.