The Reasonable Treatment To High Creatinine Level
2018-10-21 10:35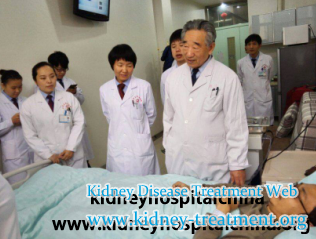 When you find your creatinine level increases,you may feel worried about your kidney function,and to the situration of increasing in creatinine, waiting for dialysis or active treatment?
Because in the current treatment of kidney disease, the conventional treatment plan is mainly symptom suppression, that is to say, the so-called treatment only solves the problem of continuous damage to kidney cells by eliminating urinary protein, edema, suppressing infection, reducing creatinine and other means, and does not directly affect kidney cells.
Therefore, when the blood creatinine rises to 300-400, it means that the kidney has been damaged by more than 70 %, and drugs such as kaitong and niaoduqing have no effect, and there are no other treatments widely recognized by the medical community at present, while the blood creatinine has not reached 340, so " waiting for dialysis" is also a relatively objective statement.
In fact, hemodialysis is also the purpose, but it is done more thoroughly, that is, blood is introduced to extracorporeal circulation.
Treatment of uremia Caused by renal failure
With the above premise, we can make some assumptions about the treatment of uremia due to renal failure.
Since improving microcirculation is so important, can we find ways to improve the blood circulation of the kidney while suppressing other clinical symptoms, and the therapeutic effect will be better?
The answer is yes.
At present, many hospitals flaunt " integrated traditional Chinese and western medicine treatment", which is actually what this means: Western medicine is used to eliminate clinical symptoms such as urine protein and edema, and traditional Chinese medicine is used to improve renal microcirculation.
Of course, the traditional Chinese medicine here is not a proprietary Chinese medicine, but a prescription of traditional Chinese medicine based on the dialectical treatment of each patient.Then it can help more kidney patients get better and better,and if you want to know more exact information about the treatment please contact us through the following:
E-mail: kidney-treatment@hotmail.com
Any questions? Fill the form below. You will surely get the free medical advice from experts within 24 hours.